In the last couple of years the term "cloud computing" could be seen almost everywhere. Although it might seem that it's a new technology, the concept has been around since the 1960s and it's evolving still. But what is the cloud? And why should you care? Let's take a closer look!
There are three broad concepts that define the cloud:
delivering a service, such as computing or storage, as a utility;
multiple people sharing the same computer resource;
access via networking.
If you are not sure what do these concepts mean, think about your daily activity on the internet.
It's everywhere
If you are unfamiliar with modern-day cloud services, let me tell you, you are using some sort of cloud service most of the time while you are on the internet. I'm sure you've used one of the Google services like Docs, Sheets or Drive. What do these services provide for you? Google Drive, for example, delivers a storage service, where you and other users share resources, the storage space in this case. And you can access it via a network called the internet. With Sheets and Docs, you can have Word and Excel-like functionalities in your browser, which are kind of computing services, where the computing resource is shared amongst users.
If you apply this train of thought on other services, you realize that in fact, every Google service is a cloud service from Gmail to Maps. But not just Google, these services are everywhere, just think of Spotify, Netflix, YouTube, the list goes on.
Where is everywhere?
"But where is it the cloud exactly?" you might ask. Although it seems it is all virtual, the cloud requires hardware as part of the infrastructure. A cloud solution is made up of a variety of physical hardware such as servers, backup devices, load balancers that are usually located at multiple geographical locations.
The virtual part of the infrastructure means that they separate resources from the physical hardware. This technology called virtualization. A software sits on top of the physical hardware and abstracts the machine's resources, such as memory, computing power and storage. Once these virtual resources are allocated into centralized pools, they are considered clouds.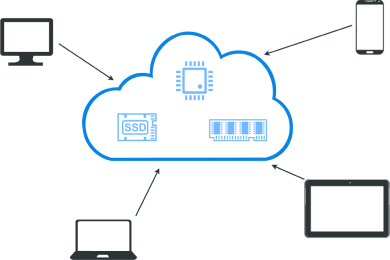 The benefits
One of the most compelling benefits of putting a service in the cloud, that it frees the end-users' machine from doing the hard work. When you access one of these services, the heavy lifting is done by the above-mentioned infrastructure. And it is designed to be able to do this kind of work. With the centralized virtual resource pool, the infrastructure can be scaled, meaning more memory, storage or computing power can be added and adjusted automatically, to different needs.
If you go further with this idea, it is somewhat obvious that if the cloud handles all the resource-heavy tasks, then you don't need a particularly powerful machine on the client-side. This conclusion opens the possibility to use the services from almost any device, from mobile to tablet. It is a huge boost to accessibility.
Another great aspect of cloud services is that sharing documents between users is way easier since everybody is on the same infrastructure. With the centralized data, sharing a file does not mean transferring a file, but granting access to a document that you own.
Also, the data are specifically safe on these systems. The databases and storages are designed to be fail-safe with many backup devices.
Our vision
Once we looked around in the industry, we realized that the possibilities that the cloud has, are not exploited. It is safe to say that structural analysis and design software are a bit behind the world. As we always engaged in innovation, an idea started to take shape, that structural design experience could be so much more if we take advantage of the opportunities of the cloud. As we started to explore the possibilities the present state of cloud computing we realized that the future is now.
Therefore, we created Steelspace, a new platform for structural engineers to make knowledge sharing and collaboration easier.

I hope this summary made things clearer, and next time you use a classic structural software I hope you have the same thought in your head as we do: how much more could it be?