The process of implementing our new developments usually takes a year from idea to implementation. These novelties are traditionally connected to a subsequent new version of Consteel, our flagship product. We launched the first international Consteel Award. The previous Diploma Competition will be merged into it, so the next competition for civil engineering graduates will be launched under The Steel Lion Award umbrella. We also added new support features during the year and released an update to Steelspace. In the following, we would like to summarize our new developments, which will reflects several user requests.
Development strategy behind Consteel
The development strategy behind Consteel is always based on three main pillars:
Innovations – we try to keep our edge position in offering advanced, automatic but still practical design methods, especially for steel structures with developments based on our own research results. These developments are very unique on the market and form the core of Consteel's incomparable design workflow.
Supplements – Consteel is originally developed and mainly used for general steel structural design however to provide our unique design workflow to wider range of problems we continuously cover more and more modeling, analysis, and design fields supplementing our core functionalities.
Requests – we regularly ask our users about their wishes and although it is impossible to satisfy all their needs, we always try to shape our new versions to include a considerable amount of novelties based on these requests.
If we look at the new functionalities in Consteel 16 we can state that this version is dominantly about the user requests: almost all the developments are directly connected to specific user needs, we received during the previous years or in the survey we have recently made. We would like to make a brief summary of these novelties and hope to be able to present such a version for our users where their requests are realized in the usual innovative Consteel way.
Easy handling of limit states and load combinations
We reshaped the system of our load combination generation by introducing the limit states. This includes completion of Consteel automatic load generation tool with combinations for geotechnical design and visualization of all limit states at several places in Consteel. Easy handling of limit states will be the basis for several other new developments which together will help you perform a fully EN-conform design more quickly and efficiently.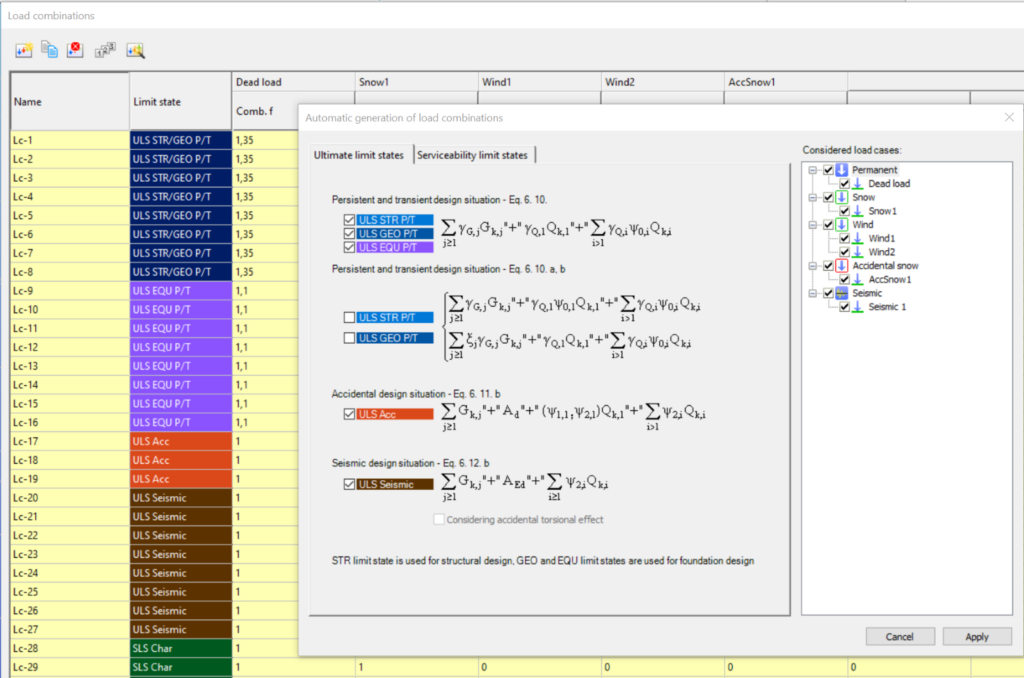 Filter of relevant load combinations
It is a significant problem in almost all structural design projects that the standards define a huge amount of possible load cases and combinations to evaluate. Although most of these load combinations are never relevant or provide decisive design situations, it is usually not evident which ones might be neglected safely and accordingly the optimization process is overloaded by a large amount of unnecessary calculation. The new filtering function for load combinations offer a comprehensive tool to handle this problem. Based on the type of the load combinations and the previous analysis and design results, a wide range of filtering rules can be defined to select the relevant load combinations. The reduced list of load combinations can be saved for the different steps of the optimization, which enhances the design process and substantially reduces calculation time.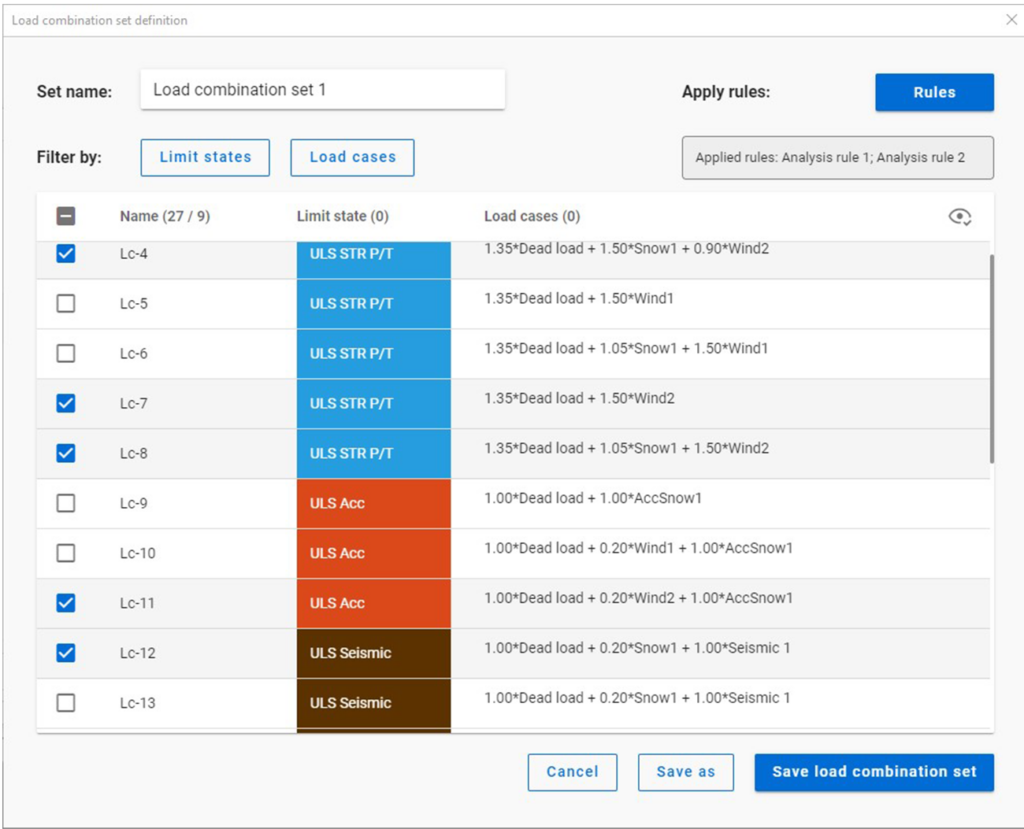 Advanced design of RC columns
Although the earlier versions of Consteel have several functions to design reinforced concrete structural members, these design options have not reached the level we provide for the steel structural members in terms of uniqueness and automatism. With the new option for RC columns, we raised the level of design of these elements to the usual innovative standard of Consteel helping the engineer to optimize their RC columns quickly and safely. The very important buckling and second order imperfection effects can be automatically defined based on our unique global buckling and sensitivity analysis considering the realistic stiffness of the whole model. In this way the reinforcement of the columns can be placed in accordance with the real distribution of the second order bending moments without the need to use them at column sections where these effects are negligible.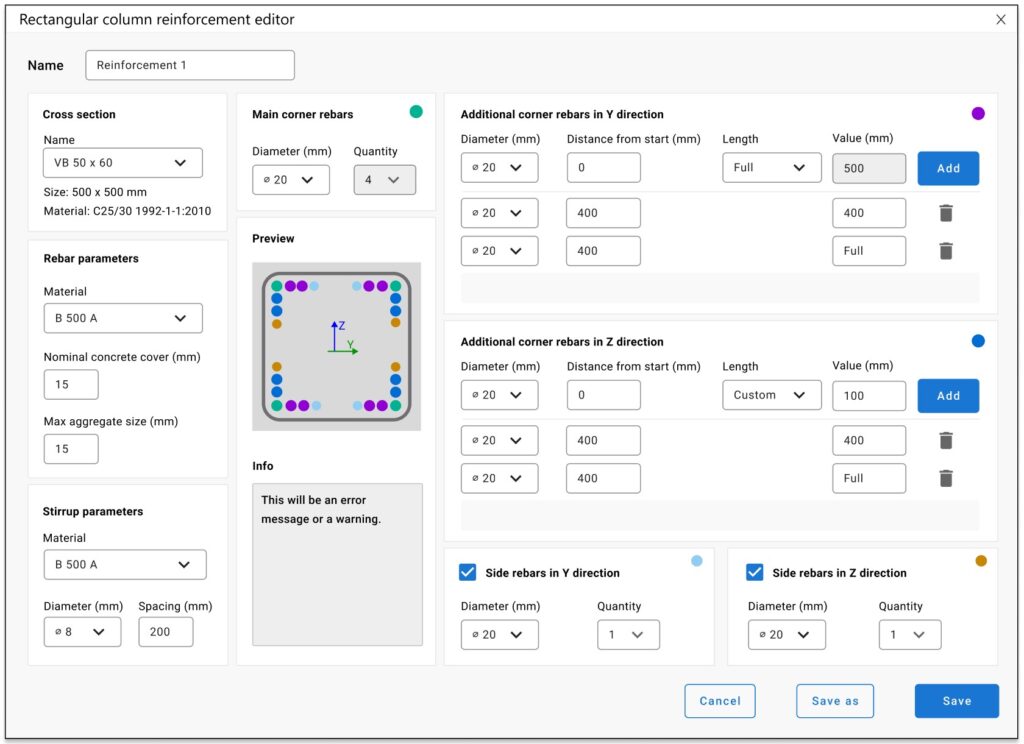 The new spread footing design tool
It has been a long-standing demand from our users to have a comprehensive design option for spread footing to be able to do a complete design for all parts of a hall structure within Consteel. The new spread footing design tool satisfies this request fully. Spread foundation design has been separated from column base joints and the already existing checks – like bearing resistance calculation and settlement analysis – have been completed with several verification checks including eccentricity and overturn check and reinforcement verification for bending moment and punching shear.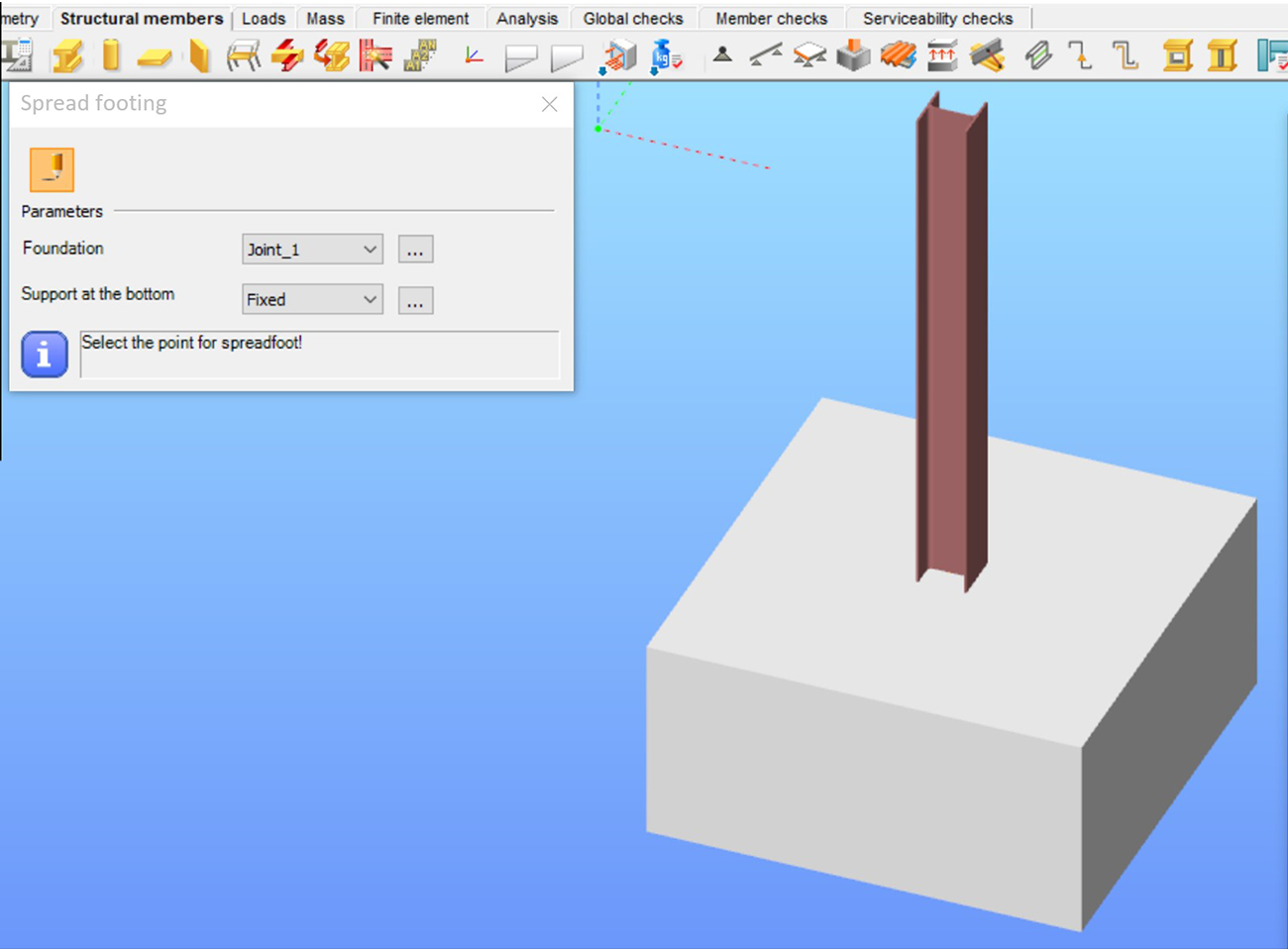 Model versioning and compare
Last year we have started to provide comfortable cloud-based functionalities for the project and model management within the new Project Center. The cloud-saved models can easily be accessed from anywhere and shared with colleagues in Consteel or Steelspace. In Consteel 16, you can record the annotated history of these models fully in Consteel or access all earlier versions either with a quick view in Steelspace, where you may also compare models to easily detect the changes between two versions.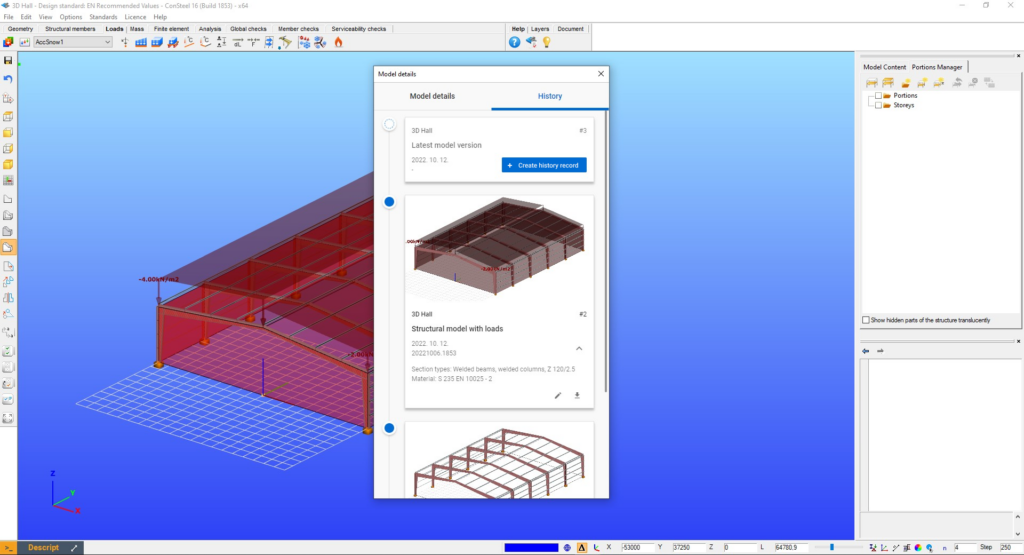 Combine Pangolin with Consteel models
Our Grasshopper plugin has become a must-have tool for the centralized, parametric design workflow in many design offices. Practically, the whole model optimization process can be controlled in Pangolin from model building to automatic analysis and design. With the new developments we want those engineers who are working in Consteel only and do not directly use the visual scripting language of Grasshopper to join into this process. The new model deconstruct, model merge and the preliminary version of the model compare components make it possible to combine parametric Pangolin models with Consteel models keeping all necessary model objects and inserting them into the parametric workflow.
Descript quick launch toolbar
Our internal scripting language (Descript) and its working environment in Consteel (MyDescript) have a growing success among our users. We have continuously released several scripts during this year to enhance your workflow with useful functions. They are also available in the Script Library. In Consteel 16 we made a big step to make the everyday use of the functionality defined by these scripts even more efficient with a quick launch toolbar. Select your favorite Descript functions and pin quick launch icons to the bottom bar to make these functions instantly available and ready for your work.
Implemented user requests in Consteel 16
Couple of small requests have been included to our developments which were directly submitted to us in this year's user survey. Some of them are listed here:
Hot keys – there will be a large number of new hot keys, practically all the important functions will be available by a hot key.
Selection improvements – there is a new option to select only the nearest model object with a CTRL + mouse click.
Member properties – new information components are given about the bar members: the weight and the material properties of the section
Copy user textbox – the user labels placed on the model can be moved and copied.
Background color – users can change the background colors of the modeling interface.
Parametric model definition – there were many requests for parametric models. We put this demand into the Descript developments and released several different model definition scripts and an easy environment for the users to define their own parametric model.
New meteorological loads – this request is also handled by scripts in the MyDescript Library providing tools for modeling snow accumulation and wind loads on canopy roof.
From time to time, we assess how our partners use the software in their daily works and want to provide support to spend even less time on modeling. After the release of the new version, the new developments will be automatically available in our free trial version. Let's develop together, help us with your feedback!