Last week, on the 4th and 5th of February we held our usual yearly meeting with our resellers. It was the 10th time the Consteel Distributors got together – except this was the first time it happened online.
Usually, the distributors visit the Consteel office in Budapest on the annual distributor meetings. But this year there are no journey experiences to share, snacking on the sweet treats that a kind partner usually brings from his homeland for the team, no handshakes or getting together at all. Instead, everyone logged in from their offices, or their own homes to join the meeting. Distributors from Germany, Greece, Poland, Romania and Spain joined us to share sales experiences from 2020 and share and find out more about the plans for Consteel developments in 2021.
On the first morning, each distributor gave a presentation, summarizing last year's events in a nutshell, and sharing their experiences in 2020 in terms of sales. We could also learn about each other's experiences of the pandemic, in terms of business. We all had one thing in common: we had almost the same events and circumstances, for shorter or longer periods, such as social distancing, lockdowns, working from home and wearing masks everywhere. After our lunch break, we played a little online game, where everybody could show off their drawing skills on their desktop with a mouse.
The highlight of the day was the announcement of the Consteel Distributor of the Year 2020. The winner of the award this time was Strenco, our distributor in Poland. We warmly congratulate to the winner, Mr Adam Machowiak, for his great work and efforts in 2020, and wish him just as great success in the upcoming year. Sadly, we could not hand him his prize in person, so we had to do a little trick to deliver the winner his trophy. Here you can see a short video of how our "ceremony" turned out.
Our next program was a sales and marketing afternoon when we discussed some new ideas and plans for our sales activities for this new year. The following session was the introduction and preparation for the next morning's workshop.
Friday started with the workshop: each participant had to use all their creativity. The partners could all share their opinions and brainstorm a bit about future sales possibilities.
This day could not pass without some fun after lunch either – even though we could not have our usual team building this year some more colleagues could play with us from the partner offices, which was nice. Next, it was time to introduce the new developments of Consteel 15 – which we cannot tell more about just yet, but we can assure you that we are looking ahead an exceptional year.
After a short discussion about our communications, came our last event of the distributor meeting: the traditional "Meet the Team" session. The distributor team and the Consteel team turned on their cameras and waved our "Hello" -s to each other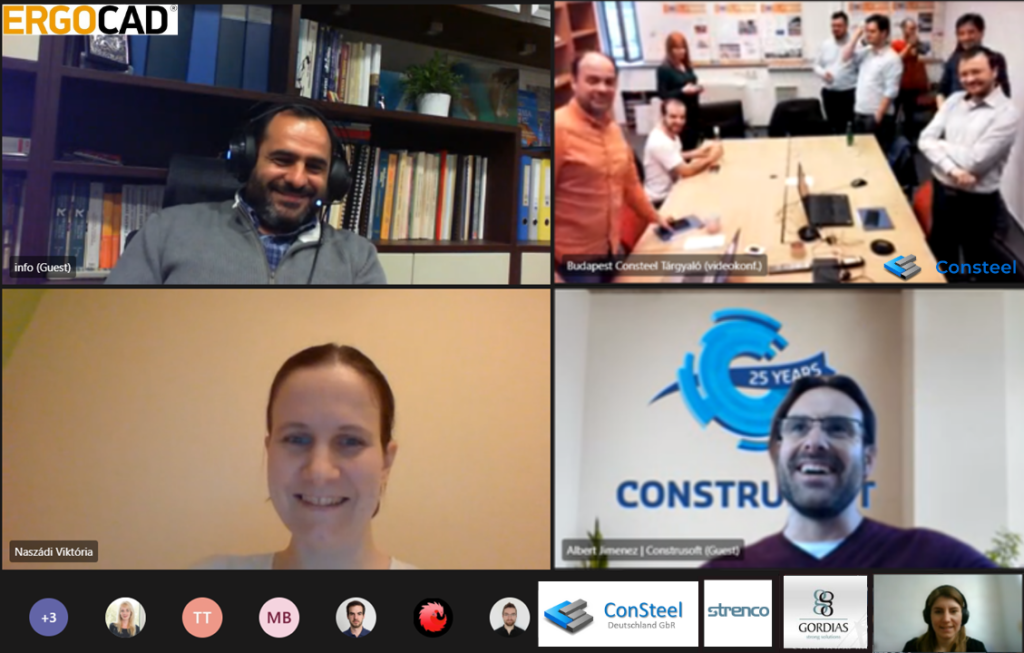 Our 10th Consteel Distributor Meeting turned out just as great as any other. However, we hope that next year we can greet each other face to face again.