Educational Plan
We would like to support the new generation of young talents. As knowledge sharing is a high priority for us, Consteel is free for students and educational institutions.
Consteel is a complete, unique structural analysis and design software for steel, composite, and RC structures. This product provides all the tools for global structural modeling, analysis, design, and documentation. It also includes the structural steel connection design module fully integrated covering all the most commonly used connection types.
Educational Plan FAQ
Educational plan
Support and additional services are available at the Pro membership level.
A plan may be renewed every semester, provided present valid documents proving a college or university legal relation.
It is not permitted to use the software for commercial purposes or to provide the license to third parties.
Free
Educational

for students, researchers, and lecturers
Software access type
Non-commercial
Protection type
Online
Credentials
Valid student ID or Thesis description or Institutional data
Save
Only cloud save available
Membership
Pro/Premium
Documentation
"Non-commercial" watermark across the page
Valid for
6 months
How to request an Educational plan?
Click on the login button on our website.
Click on register and sign up to our website with your email address.

If you are a researcher or lecturer in a faculty of civil engineering, register with your educational (edu) or institutional (college or university) email address.
Check our verification email and verify your email address. If you haven't got our verification email, please contact us.
Log in and go to your Account/Subscription tab and scroll down for the Educational Plans.
If you are a civil engineering student at a college or university, request a Student plan.
If you are almost before graduation, choose a Graduate plan.
If you are a researcher or lecturer, choose an Academic plan.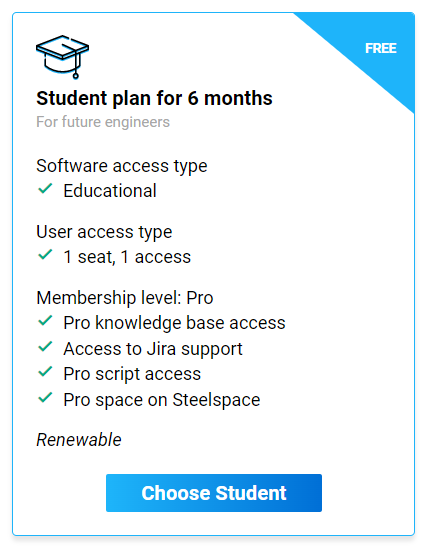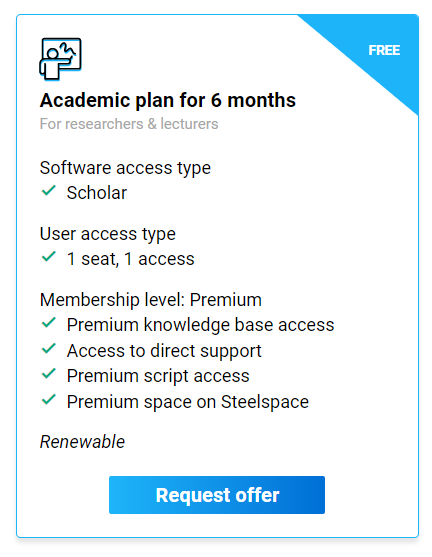 If you are a student, you will need to upload photos from the two sides of your valid Student ID. Approval may take 1-3 days. We will inform you via email.
Download Consteel from here and you can use it with your registered email and password for 6 months.
How to renew your Educational Plan?
After your Educational plan expired you will have to request a new plan in your Account/Subscription menu and provide present valid documents proving a college or university legal relation. You can use Consteel again after your request is validated.
Validation may take 1-3 days so be sure to save your work before the expiration date!
I accidentally requested a Trial Plan, what should I do?
If you are a student and requested a Trial Plan by accident, please contact us at edu@consteelsoftware.com and we will help you.
How can I request support?
If you have any software related problems, register to the Help Center and create a ticket to report your issue. Our support team will help you soon!